NUVALI COMMERCIAL LOTS
A Vision of Sustainability
Cultivating a dynamic relationship among ecological, social, and economic webs of life.
NUVALI is built upon three sustainability fronts. This is the guiding philosophy we recognize as a developer and an organization.

ECONOMIC SUSTAINABILITY
Solid underpinnings for future economic growth
Mixed land use
Connectivity: road networks and modern utilities like internet
Central Business District, BPO Campus

ENVIRONMENTAL SUSTAINABILITY
Nature at its best, an environment preserved for the ages
50-60% open spaces
Compliance with LEED standards, Partnership with WWF

Focus on Water, Energy and Waste Management

SOCIAL SUSTAINABILITY
A living, breathing community
Within NUVALI: common areas and amenities to promote a interaction
Range of housing options
Around NUVALI: community organizing
INVEST FUTURE NUVALI CBD
Avialable Commercial Lots in Laguna
Lakeside Evozone-South is the second phase in the general Lakeside Evozone expansion. Poised to be one of the most preferred locations for call centers, Business Process Outsourcing firms, and other business, this phase will sport a campus-type setting to complement the union of urban structures and landscaped parks and open areas. This is a FAR 4 development and PEZA-registered area allowing locators' incentives that afford locators competitiveness. ​
​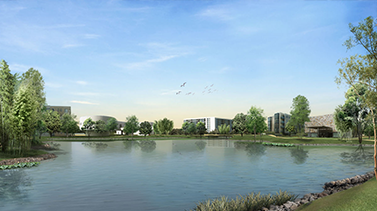 Lakeside Evozone is highlighted by recreational amenities such as the multi-functional lake, the Greenway, and dedicated bike and pedestrian lanes.
NUVALI's Lakeside Evozone was carefully conceptualized with well-thought out facilities and infrastructures such as telecom redundancy, central sewage treatment plant and underground utilities in a campus-type setting with generous open spaces, landscaped parks and sidewalks, parking areas with permeable blocks, and located near the lakeside retail Ayala Malls Solenad.
Allowed land uses:

Hotel
Office (Headquarters)
Education for Graduate Schools
Research Centers
Residential

Estimated Price as of April 2020: Php 200M​
Average Lot Size: 2,000 sqm​
FAR: 4

HLURB NO: 23725
Pre-Selling Commercial Lots in Laguna
East Bloc is the upcoming commercial district in Nuvali. It is envisioned to become an Urban enclave strategically located beside Nuvali North Central Business District. It will be a complete mixed-use community that blends the natural and man-made features, where there is perfect harmony of nature and advancement, the contemporary and the timeless. Here, landscape and architecture will also be integrated. The streetscape will be a social space that will tie the entire development together.
Allowed land uses:

Hotel
Office (Headquarters)
Education for Graduate Schools
Research Centers
Residential

Estimated Price as of April 2020: Php 240M – Php 550M
Average Lot Size: 3,000 – 5,000 sqm
FAR: 4 and 5

HLURB NO: 034832